Rights management, tracking, and calculation can be complex.
With the explosion of streaming and content platforms, studios and entertainment management companies are looking to leverage their content in new and creative ways. The opportunities are vast, and you must be on top of many moving parts to beat the competition.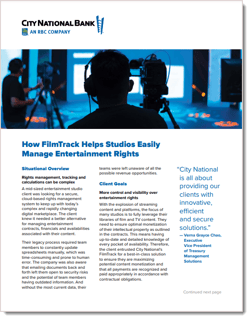 Our new case study, How FilmTrack Helps Studios Easily Manage Entertainment Rights, illustrates how you can gain greater control and visibility over your content library with our end-to-end solution for rights management.
And as a subsidiary of City National Bank, we are a secure system that grows and moves with your business. Download our case study to learn more!