When a major studio needed help managing its massive film library acquired over decades, including integrating huge amounts of data from a new major acquisition, FilmTrack delivered.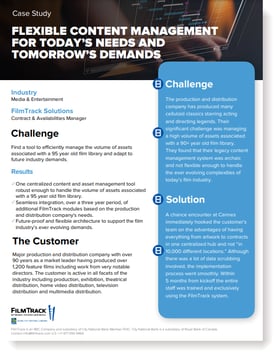 Learn how in our new case study, Flexible Content Management for Today's Needs and Tomorrow's Demands.
See how we help clients:
Centralize all content and assets in one platform

Anticipate challenges and automate systems

Grow through modular features that fit their business needs

And much more!
Download the case study to see the control and business intelligence you are missing in managing your rights!