Flexible and Intelligent Content Management
When renowned public broadcasting station WNET sought a solution to share content with public media stations across America, they came up short. Nothing on the market could give them the dynamic backend functionality they required. But they found a tremendous partner in FilmTrack, which custom-built precisely what was needed to allow them to easily collaborate between hundreds of public stations throughout the country.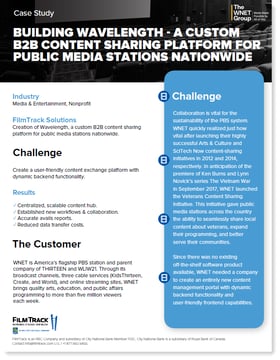 See how in our case study Building Wavelength - A Custom B2B Content Sharing Platform for Public Media Stations Nationwide. Learn how FilmTrack gives media companies:
Seamless

accessibility

Ease of use for unlimited users

Unparalleled collaboration tools

And much more!
Download the case study to find out more!